New Blackboard Policy to drive student engagement & optimize system performance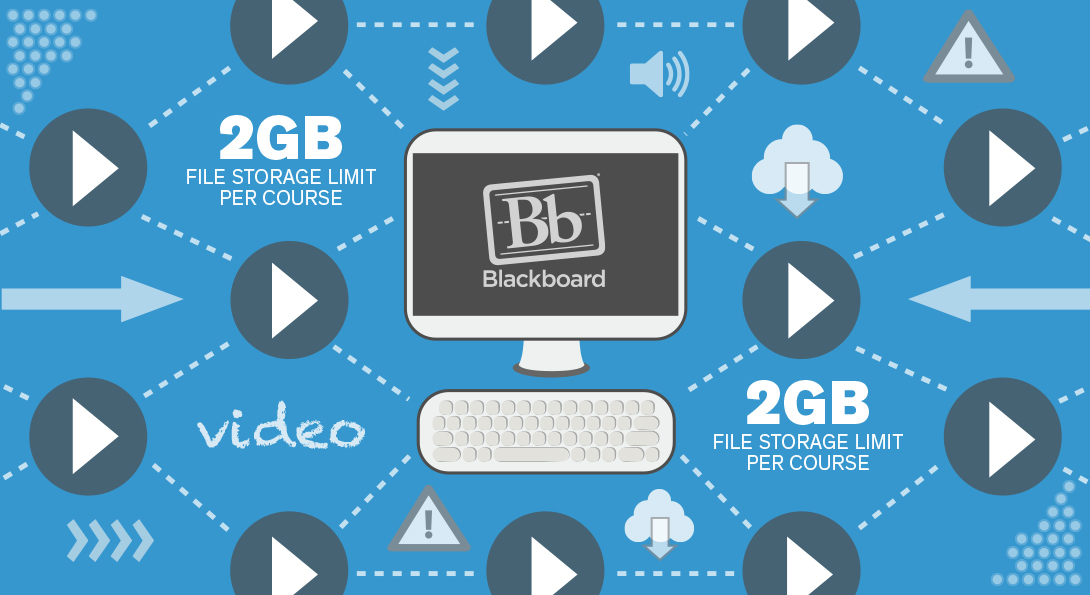 Course Storage Limit to 2 GB
In an effort to promote student learning experiences, and to properly manage storage resources to optimize system performance, the LMS Governance Board has approved a new policy that sets the storage quota for Blackboard courses to 2 GB  per course, starting July 1, 2021.
This policy supports the development of course content and sites that improve accessibility and student engagement and help the system perform optimally.
Instructors are encouraged to leverage their choice of UIC-supported video streaming and/or cloud storage services to seamlessly integrate digital content into Blackboard rather than uploading directly to the platform.
Using these services gives students access to course content in Blackboard, encourages the creation of engaging course content, and maintains course storage quotas to support optimal system performance.
Why is this Happening?
Encourages the creation of content that drives student engagement.
Files uploaded directly into Blackboard have limited built-in features which, in turn, limit the learning student experience. Instead, instructors can drive student engagement by leveraging tools such as Panopto to embed active learning activities (such as quizzes and polls) into videos, and create interactive learning assignments.
Gives students optimized access to content.
Videos and files integrated into Blackboard through UIC-supported cloud storage or streaming service options are optimized for computer and mobile viewing, and give students access to your content using less bandwidth. Files stored directly in Blackboard may require full download before playing, which can be problematic to students who may not have access to reliable internet or mobile data connections while learning remotely.
Provides instructors with more tools to create accessible content.
Videos uploaded directly to Blackboard are usually not accessible, and enabling closed-captioning is not possible. Creating content with streaming services such as Panopto allows instructors to record, edit, and add closed-captioning to videos to make courses more inclusive and accessible.
Improves system performance.
Course sites with large files and/or a large number of files slow down Blackboard maintenance activities, including copying courses, exporting and importing data, and performing backup recoveries. Instructors are encouraged to store large files on a cloud storage service as these files can be shared, embedded, or integrated into Blackboard from the cloud service, and do not take up storage space on course sites.
What to Expect
Before July 1, 2021
Instructors whose Fall 2020 courses are currently exceeding their storage quota will be notified via email in the upcoming weeks with a request to take appropriate action.
After July 1, 2021
After July 1, instructors will receive an error message when course storage exceeds the 2 GB limit and additional material will not be able to be uploaded until course material is removed or a request for more storage capacity is approved.
Instructors that have not adjusted courses to meet storage quota by July 1 will be contacted by one of CATE's instructional designers to agree on a plan to move content.
If more storage space is needed, instructors may request a Course Quota Increase in 1 GB increments.
Blackboard File Storage Tips & Resources
Instructors are encouraged to review and adjust courses to meet quota requirements. Visit the Blackboard File Storage page for tips, resources, and best practices to manage course quotas including:
Streaming & cloud storage services
File Do's & Don't's
Checking course storage
Requesting additional storage
Modified on April 14, 2021