UIC Announces Expansion of Live Classroom Streaming Capabilities to Support Flexible Teaching & Learning at UIC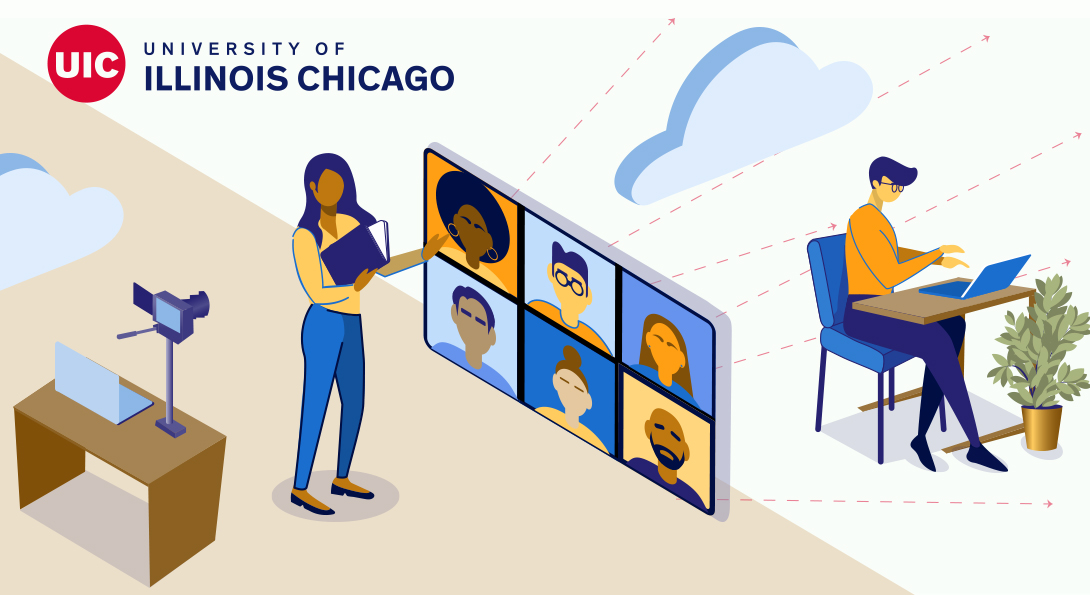 Following a year of successful remote teaching and learning, UIC is investing in technology which will further enable flexibility for students to attend classes in person, remotely, or a mix of both for the Fall 2021 semester.
QUOTE 1
Overall, we are confident we will have all of the technology needed to enable faculty and students for UIC's 'new normal' of teaching and learning…Ultimately, success will require teamwork and coordination with other units, and so far, that has been going very well.

UIC Vice Chancellor for Innovation

|
Text block 2
The Vice Chancellor for Innovation announced in a Town Hall meeting May 6th that more than 500 classrooms and learning spaces across campus are being considered as host locations for technology which will support hybrid teaching. Rooms supporting undergraduate students will be prioritized on both sides of campus, with a focus on classrooms offering the largest impact, including lecture and seminar classrooms, and those rooms that are large enough in size to benefit from the tech (i.e. larger than 500sq ft). "I'll reinforce that all learning spaces, regardless of size, are under consideration, and we will complete as many as possible," Augustine said.
The work focuses on expanding current technology offerings such as lecture capture powered by Echo360, and support for live streaming using Zoom, as well as equipment installation and upgrades including projectors, cameras, microphones, speakers and more. The addition of audiovisual equipment necessary for hybrid learning will be accompanied by enhanced wireless and wired network services provided by Technology Solutions.
quote 2
We don't want to be in a position where we deploy teaching technology that overwhelms the network and therefore can't be effective," Augustine said. "The Technology Solutions team is already working hard in and around these spaces to make sure they are well-connected.

UIC Vice Chancellor for Innovation

|
text block 2
Aside from introducing new services to classrooms, UIC is also upgrading outdated equipment as well, Augustine said. "As many of you know, there are projectors in rooms across campus that may not be ready to deploy with the technology we are rolling out. We will be upgrading those systems as well," he said.
Modified on May 10, 2021