UIC Leverages Amazon Web Services (AWS) Cloud Platform to Accelerate Research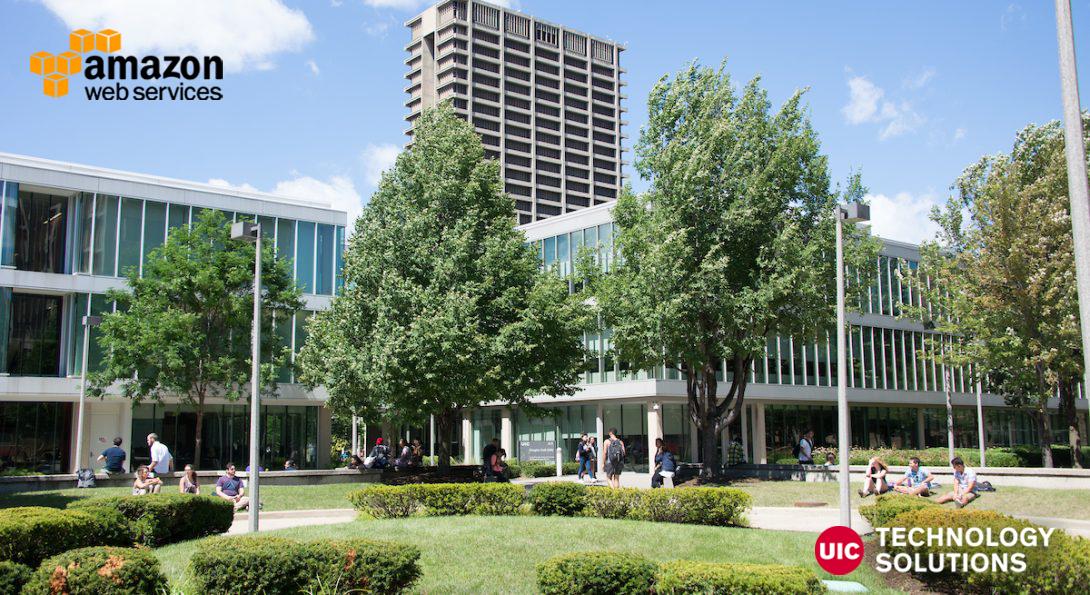 Cloud Computing at UIC
UIC Technology Solutions is partnering with Amazon to provide Amazon Web Services (AWS)  cloud computing to UIC. Millions of customers - including the fastest-growing startups, largest enterprises, and leading government agencies - are using AWS to lower costs, become more agile, and innovate faster.
Similar to Microsoft Azure, AWS is a secure cloud services platform, providing access to massively scalable IT resources, and making it possible to set up high-availability applications and resilient and fault tolerant infrastructure in minutes.
It offers a broad set of global cloud-based products including storage, databases, analytics, networking, mobile, developer tools, management tools, Internet of Things (IoT), security, and enterprise applications to help organizations and researchers move faster, lower IT costs, and scale.
Adding the tools and technology of AWS to our service portfolio brings next generation applications and services to UIC, with greater capabilities and global coverage. In combination with Microsoft Azure, we now have a choice of cloud technology, introducing greater flexibility and reducing our risk of a singular cloud platform at the University.

UIC Technology Solutions Director of the Enterprise Applications and Services

|
UIC Faculty, Staff and Students can use AWS for University business by requesting an account from Technology Solutions and providing a valid CFOPAL from your unit or college.
Run web and application servers in the cloud to host dynamic websites.
Securely store all your files on the cloud so you can access them from anywhere.
Use managed databases like MySQL, PostgreSQL, Oracle or SQL Server to store information.
Deliver static and dynamic files quickly around the world using a Content Delivery Network (CDN).
Send bulk email.
AWS will accelerate research at UIC by bringing know-how and tools researchers need at a much faster rate, to secure complex computing within minutes. With this new service offering, we make sure everyone gets our educational discount as well as support coverage.

UIC Technology Solutions Director of the Enterprise Applications and Services

|
Using AWS under the University's Enterprise agreement, rather than creating an account using a P-Card has the following benefits:
Access to AWS enterprise support
11% academic discount
Ability to receive monthly invoices
A secure network route back to campus
Usage of University NetIDs in AWS
Our security team can assess compliance with data security policies, including HIPAA and FERPA
Compliance with P-Card policies. P-Card usage in AWS may violate the following requirement: "Abstain from allowing a vendor to keep the card number on file to establish recurring or automatic payments."
Technology Solutions has created a list of resources that you can use to learn about Amazon Web Services (AWS).
If you have any questions about a specific topic on AWS, Technology Solutions or the IT@UIC Community can help; join the conversation in UIC's Cloud Computing channel. Use the join code 3t38om2 if you aren't already a member.
Modified on July 12, 2022