Technology Solutions' National Cyber Security Awareness Month Campaign Wins Award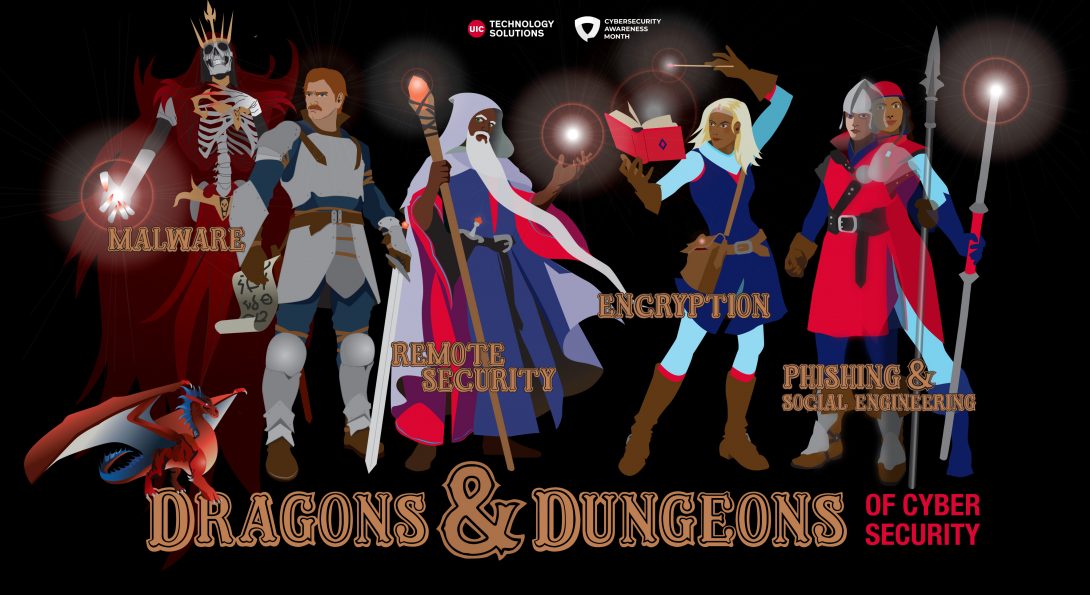 The Dragons & Dungeons of Cyber Security
Technology Solutions' 2020 NCSAM campaign "The Dragons & Dungeons of Cyber Security" has won a Communication Award award from SIGUCCS! More specifically, the campaign received a "Best of Category" for General Service Campaign Materials.
Technology Solutions will present its winning campaign at the virtual 2021 SIGUCCS Conference Online Seminar Series (March 14 - April 30), which is free to attend. Stay tuned for our presentation date! To sign up, see: https://siguccs.org/Conference/2021/
The overall event will focus on sharing successes, finding inspiration, and connecting with colleagues who strive for excellence in providing information technology services for colleges and universities.
The Special Interest Group on University and College Computing Services (SIGUCCS) is a community of IT professionals from helpdesk employees to CIOs who help higher education institutions leverage current technology to foster discovery and learning.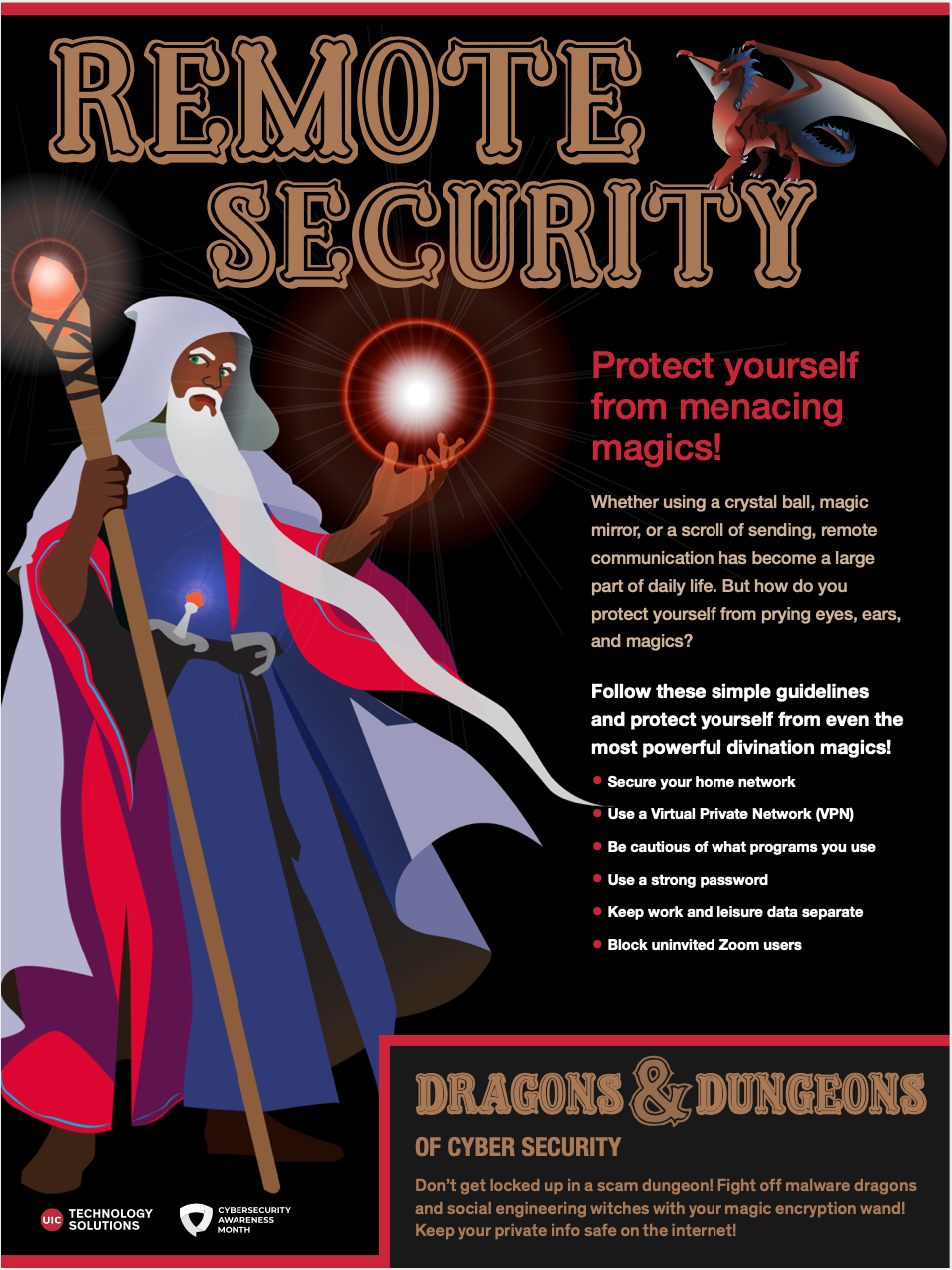 "I really like this unique take on phishing education! The theme keeps it entertaining, and will also likely catch the attention of students, faculty, and staff alike – especially the gamers in those audiences. The combination of email, news articles, posters and even Zoom backgrounds provides a number of different ways to get the message out to the campus community. The more people see a message, the more likely they are to remember it – and with the wide variety of methods used to get the word out, I'm thinking this was definitely a memorable campaign.
The overall design of the campaign's materials is very unified, with a consistent art style used for all the graphics used – plus, use of the Dungeons & Dragons font likely helped with catching the viewer's attention. While the poster backgrounds are all black, there's enough contrast between the background and the visual elements (specifically the text and illustrations) to help everything stand out and be readable.
When it comes to accessibility, despite there being heavy emphasis on graphics, for each poster there's an accompanying news story that provides the same information (and often in more detail than the poster can provide), which aids in accessibility. Additionally, the color contrast used in the posters is strong enough to make sure that text is readable against the dark background, which also helps with accessibility."
Over the past couple months, there has been a significant increase in cyber attacks targeted toward our university. Our community of faculty, students and staff has been targeted by very sophisticated phishing attempts and scams communicating false threats, demanding compensation or sensitive information. With the increase of remote work, teaching and learning, it is now more important than ever to stay safe online and raise awareness on how to identify threats and prevent becoming a victim of cyber crime.
If you receive phishing/scam emails or calls and have given or entered your NetID and password or other personal information, please immediately change your password at identity.uillinois.edu and contact security@uic.edu with the details.
If you receive phishing/scam emails or calls and purchased gift cards, Bitcoin or deposited a fraudulent check, please contact UIC Police for assistance at 312-996-2830 or visit police.uic.edu.
If you receive a scam telephone call, hang up, block the number and call UIC Police to report it at 312-996-2830.
If in doubt, email security@uic.edu with any questions.
Thank you in advance for your support to deter and prevent cyber attacks.
Modified on April 01, 2021