Creating a strong password that's easy to remember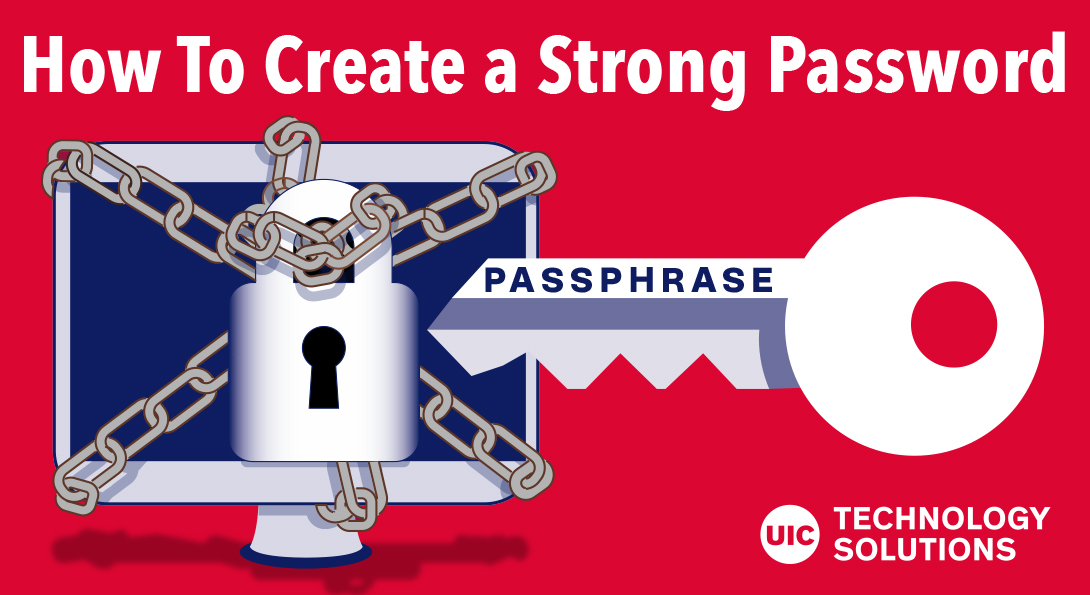 A strong password is crucial to keeping your information safe
With an increasing number of accounts, websites, applications and logins we have that require passwords, is it any wonder a recent study by NordPass found that the average person has over 100 passwords?! Strong passwords play a major role in keeping your information safe by making it difficult for attackers to hack your accounts.
In 2021, nearly 40 percent of malicious incidents were caused by stolen or compromised credentials and cloud misconfigurations. Attackers used previously exposed emails and passwords in one out of five breaches.
Creating a strong password that is easy to remember can be challenging. You may be tempted to use information that is easy for you to remember such as names, birthdays, or other personal information but this should be avoided. Instead, passwords should use a combination of letters, numbers, cases, and symbols to form an unpredictable string of characters. Even typos and misspellings are encouraged.
Use at least 12-16 characters
Long passwords help reduce the chances of successful attacks. The longer your password is, the better it will be so aim to create a password that is at least 12 characters long. You can create a long password by using a passphrase that is easy to remember.
Create a passphrase
A passphrase is a sentence-like string of words used for authentication that is longer than a traditional password, easy to remember, and difficult to crack. You can use a unique phrase or quote from a book, movie, or song that is meaningful and easy for you to remember. Below are examples of famous movie quotes turned into passwords:

Y3rAW1zardH@rry!!
LooqI@mYerF@ther!
Ju$tK33pSwiMMing!!

Avoid using personal information
Do not use your name, birthday, names of children or pets, or any type of personal information as your password.
Avoid sequential letter or numbers on your keyboard
Do not use "12345", "qwerty", "asdfg" or other sequential characters located on a keyboard.
Don't use the same password on all your accounts.
Sites can get hacked resulting in your details and passwords being leaked or sold. It is recommended to use different passwords for different accounts.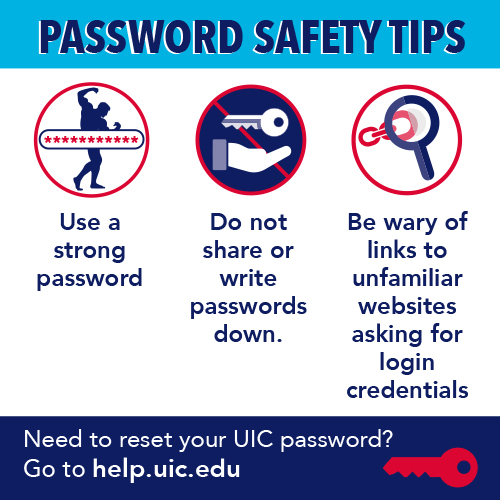 Be wary of unfamiliar web pages that ask for credentials
Watch out for emails leading to web pages that ask for your credentials. When in doubt, do not divulge any personal information.
Verify web address
Before entering your username and password, verify the web address. Fake websites can copy the layout of the original page, changing the web address by just a few characters.
Keep your password safe
Never share your passwords with others or write passwords down. They are personal and should never be revealed or shared.
Use 2-Factor Authentication (2FA)
2FA helps secure your account by adding an extra layer of security. When logging into accounts, 2FA requires you to verify your identity using a second factor, such as a mobile device, and prevents anyone but you from logging in, even if your password has been compromised.
Update passwords annually
Change your password at least once a year or when your account has been compromised.
Keep your email account safe
Your email account is often used to reset passwords on other sites. Make sure no one can crack your Inbox.
UIC NetID & Password
Students, faculty and staff can manage and reset NetID password, set up 2-factor authentication (2FA), establish account recovery settings and sign up for UIC Alerts through the NetID Center.
Report Scam Attempts
If you receive a suspicious email, do not reply, click on any links, or download any attachments. Forward the potential scam email to security@uic.edu immediately to help our Security team keep the UIC Community safe from cyber criminals!
UIC Help Center
If you have any questions or need additional support, please visit the UIC Help Center at go.uic.edu/ask-an-IT-question.
Modified on August 10, 2022