Stay Safe! Don't Get Scammed During COVID-19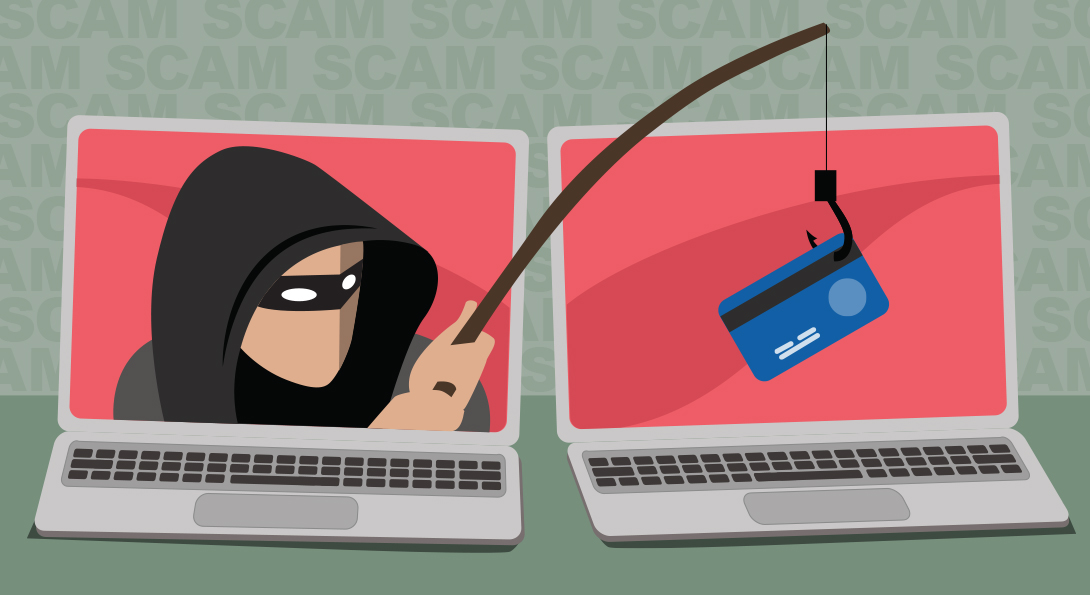 Along with the COVID-19 measures that require us to work, teach and learn remotely, we've seen a spike in online service usage and communications. Experts warn that cybercriminal activity (including online and phone scams) is expected to increase as the situation progresses.
Protect yourself from the latest scams including:
Phishing Scams: Emails impersonating the World Health Organization, the CDC, and other reputable sources may hit your inbox. Don't click on emails impersonating these organizations. For accurate info, go straight to the source's websites. Report suspicious or threatening emails.
A real-world example of phishing scams includes an incident in January 2020 when the ACCC Information Security and Privacy Office had received many reports of directed email scams targeting UIC faculty, staff, and students in an attempt to get the recipient to purchase gift cards and to email the gift card numbers to the attacker.
Social Engineering: Cybercriminals will try to capitalize on heightened internet traffic to lure people into scams by pretending to be someone they are not. If someone asks you for money online, via phone or email, it's probably a scam. Scrutinize any incoming messages and NEVER share personal information (credit card number, bank account information, etc.) to an unknown caller or through email.
Job Scams: It is important to keep an eye out for job scams, especially during this time of uncertainty. These are fake job posts that ask you to fill out an application for non-existent positions, with the goal of collecting your personal information like name, email address and home address, phone number, birthday and social security information that scammers can use to impersonate you and steal your identity. When in doubt, always visit a company's website career section. Remember, if you're offered job that sounds too good to be true, it's most likely a scam.
Charity Scams: Charities you don't recognize may be asking for donations in the wake of COVID-19. While it is great to give back, unfortunately, scammers take the opportunity to mask themselves as charitable organizations and efforts. Verify all charities on the IRS tax exemption site before donating.
False Information/Fake News: Websites and social media pages are tools that cybercriminals use to distribute false information and capitalize on panic. If you're looking for information, visit trusted pages like that of the CDC, World Health Organization, Federal Trade Commission, and the Better Business Bureau.
Zoombombing:  When uninvited attendees break into a Zoom session and cause disruptions, that's known as "Zoombombing." To prevent uninvited guests, and avoid disruptions during your session, there are steps you can take to ensure your sessions are protected.
Robocalls: Calls from cybercriminals pretending to be government organizations, family members in distress, banks/credit card companies etc. are on the rise. Robocalls are less easy to detect than they used to be as the caller ID can be adjusted to make it look like the call is coming from your area code. Beware!
Text Messages: Fake text messages telling the recipient that they've come into contact with someone who has tested positive or shown symptoms for COVID-19 are being reported. These texts can contain a website link that claims to provide information. If you receive a text like this, do not click on the link or share any sensitive information.
Malware: Fraudulent links can install malware (software intentionally designed to cause damage to a computer, server, client, or computer network) on your device. If you accidentally clicked on a link or and believe your computer has been infected by malware from a malicious link, contact us at security@uic.edu.
Take action, stay safe!
We urge you to be vigilant and report suspicious or threatening emails that appear in your UIC inbox. For assistance with these and other informations security issues, contact us at security@uic.edu.
Protect yourself from online scams! Learn about Cyber Security at UIC.
Take action against COVID-19-related scams! Learn more through this COVID-19 Scam Infographic.
Modified on January 28, 2021