Online Meetings with Webex & Now…Zoom!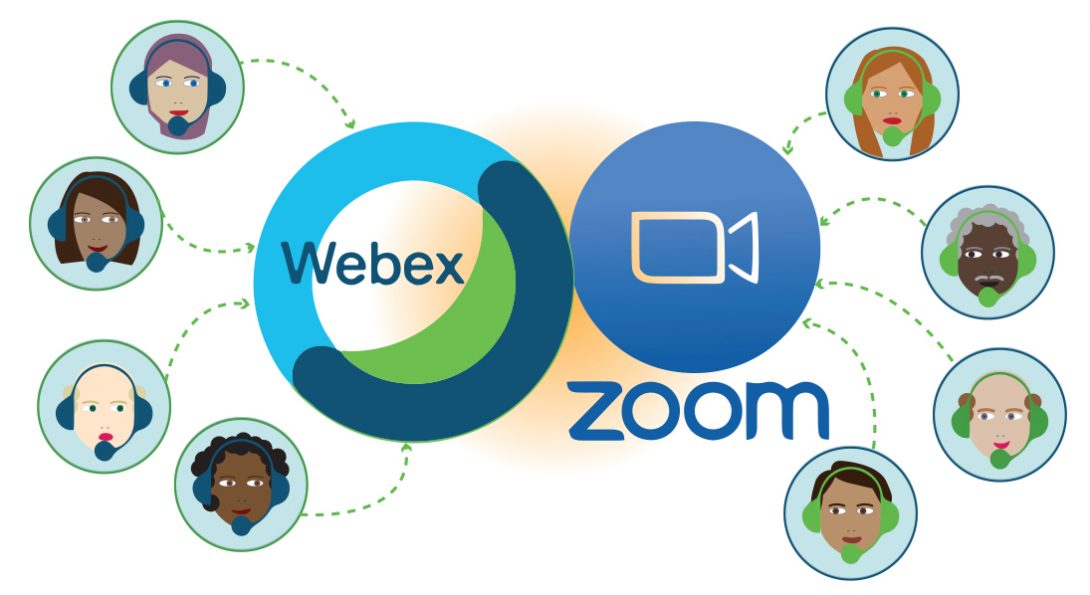 Dear Instructors and Staff,
As you transition your work and/or teaching online and look to use web conferencing tools, we want to ensure you that you have the support and information you need to be successful.
Conferencing Service Levels
Due to the COVID-19 pandemic, there is a significant global increase in the utilization of services like Webex Meetings, Zoom, Blackboard Collaborate, and Google Hangouts Meet, that can lead to service interruption or degradation.
Vendors across the country are working tirelessly to alleviate problems as they arise. Please be aware that in some cases, the issue may also be with your internet service provider (e.g. Comcast Xfinity, RCN, AT&T, etc.) as they are also experiencing unprecedented levels of demand on their networks.
Webex Meetings:
Conduct live web-based meetings with online audio, video and chat capabilities, using your computer or mobile device
Share your screen so everyone in the meeting can see documents, presentations, and more
Use online whiteboards to make annotations
Invite anyone - only hosts need a Webex account
Need help getting started? Take a look at our quick guide: uofi.box.com/v/Webex-Meetings-Guide
Log into Webex Meetings at uichicago.webex.com using your UIC Net ID and password. An app can be downloaded to your computer, and is also available for iPhone or Android.
If you encounter problems using Webex, we have resources available to help!
Zoom:
As of March 20th, UIC has licensed Zoom for all UIC faculty, staff, and students (UI Hospital and Clinics are excluded).
Sign into, host, or join Zoom meetings: uic.zoom.us

An app will be downloaded to your desktop or mobile device

Learn More: go.uic.edu/zoom
Get Answers: Zoom provides direct support 24/7
Discover Alternatives for Online Conferencing & Collaboration:

Google Hangouts Meet provides web conferencing options - with phone call-in capability. This solution works well for students and small groups (please note this solution may not be available in certain countries): go.uic.edu/google-meet
Blackboard Collaborate is primarily focused on use for teaching and learning and is available through Blackboard course sites. This is the recommended solution for instructors to hold live classes with their remote students: go.uic.edu/blackboard-collaborate
Microsoft Teams provides collaboration tools and allows for conferencing - though only using computer audio (your computer's microphone and speakers, or a headset). There is no phone call-in capability unless using the Teams mobile app: go.uic.edu/microsoft-teams
All of these tools are available at no cost to you.
Want the best experience in your meetings/classes? Follow these simple tips to help ensure a smooth meeting experience:
Skip sharing video: Unless it is critical to the meeting's success, don't Share Camera Video, or only share when you are presenting (and ask participants not to share their video)
Try different audio options: If you're not having a good audio experience, try changing audio options (if you're using computer audio, try switching to phone audio, or vice versa. In Webex, try go.uic.edu/webex-audio). If you're having trouble joining audio by phone, try calling one of the other available call-in numbers (these are listed in the Webex or Zoom meeting invite as well). Alternative Webex call-in numbers can be found here: go.uic.edu/webex-calling
Close other applications: If you're not sharing content from your computer, try closing any unnecessary applications running on your computer to make sure your computer and your network connection can focus on the Webex meeting.
For all other questions or concerns, you may reach us at consult@uic.edu.
Modified on January 28, 2021