True Stories: Protect your Personal Information + Cybersecurity Quiz
Keep your Personal Information Safe!
Personal information can mean a lot of data. Anything from your full name to your Social Security Number counts as personal information, and it's important to protect it.
Did you know that scammers can use your personal info to steal more details & access your accounts?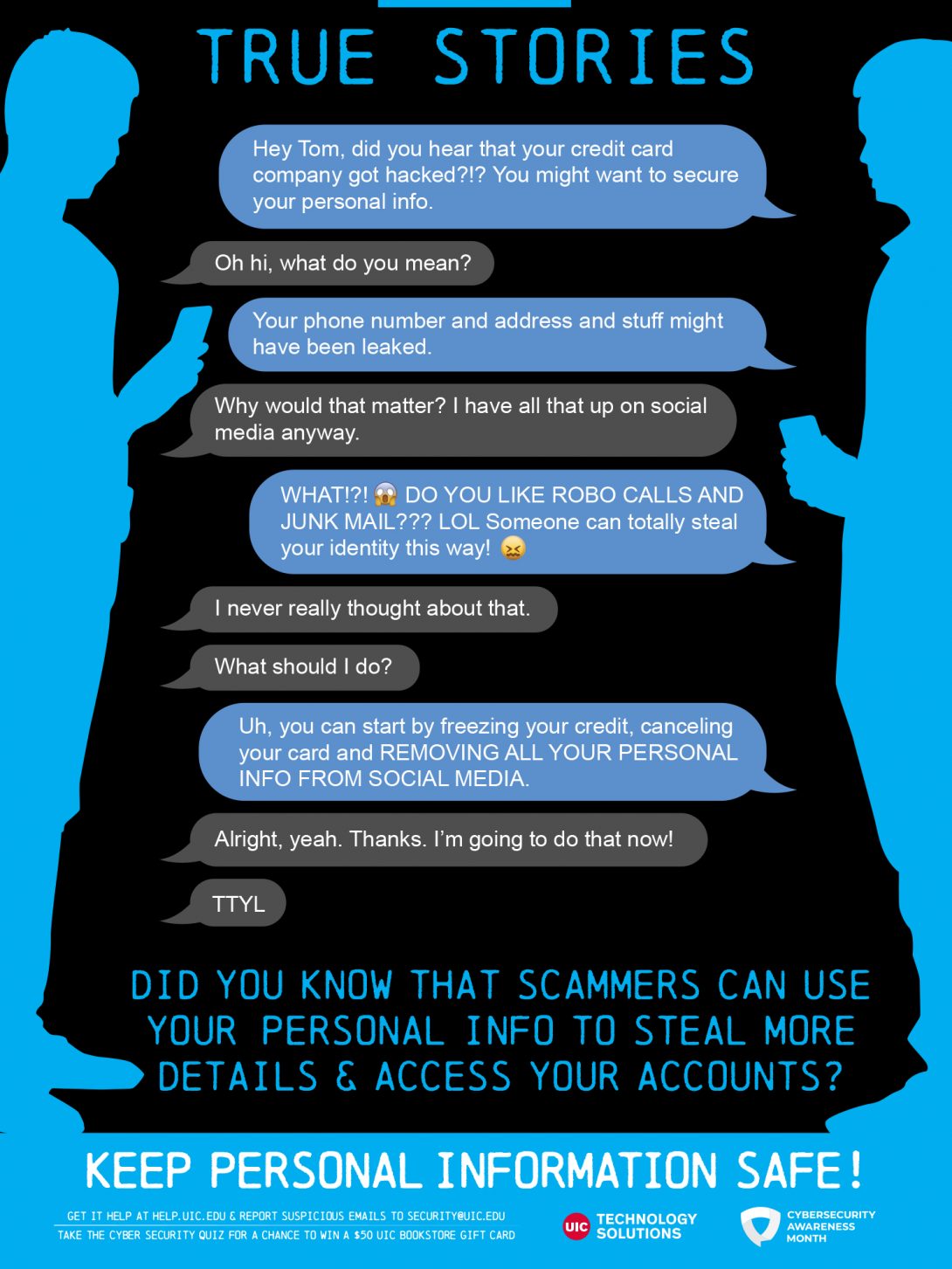 Here are some tips for keeping your personal information safe:
Don't fall for email scams
Scammers may approach you via phony emails masked as legitimate ones, asking you to change your UIC password or to let them know if you're interested in taking on a part time job, for example. Be cautious when responding to emails that sound suspicious. Never click on links without confirming they are coming from a legitimate source, and remember, if a job offer is too good to be true, it probably is!
Create strong passwords
When deciding on a password, think beyond simple words or numbers a scammer could easily figure out, like your birthday. Choose combinations of lower and upper-case letters, numbers, and symbols and change them periodically. Do not use the same password across multiple sites, services or applications.
Don't overshare on social media
Avoid putting your personal information at risk. Check your privacy settings so you are aware of who's seeing your posts, and be cautious when posting personal information such as your hometown, birthday, pet's names and other personal details.
Use free Wi-Fi with caution
Did you know that most free public Wi-Fi networks have very few security measures in place? This means that others using the same network could easily access your activity. If you are planning on entering sensitive information like your credit card info online, wait until you have access to a safe Wi-Fi connection.
Check to see if the site is secure
Take a look at the top of your browser before entering personal information into a website. If there is a lock symbol and the URL begins with "https," that means that the connection between your web browser and the website server is encrypted.
Familiarize yourself with changing and managing your login information. To change your UIC NetID and UIC password go to the NetID Center.
Modified on October 25, 2021