True Stories: Use 2-Factor Authentication for Extra Login Safety!
2-Factor Authentication
While cyber attacks are on the rise globally, UIC uses a 2-Factor authentication (2FA) service provided by Duo Security, an industry leader in cybersecurity services, to better protect our community's sensitive data.
Quote
2FA offers an extra layer of security to login attempts, designed to ensure you're the only one accessing your information.
True Stories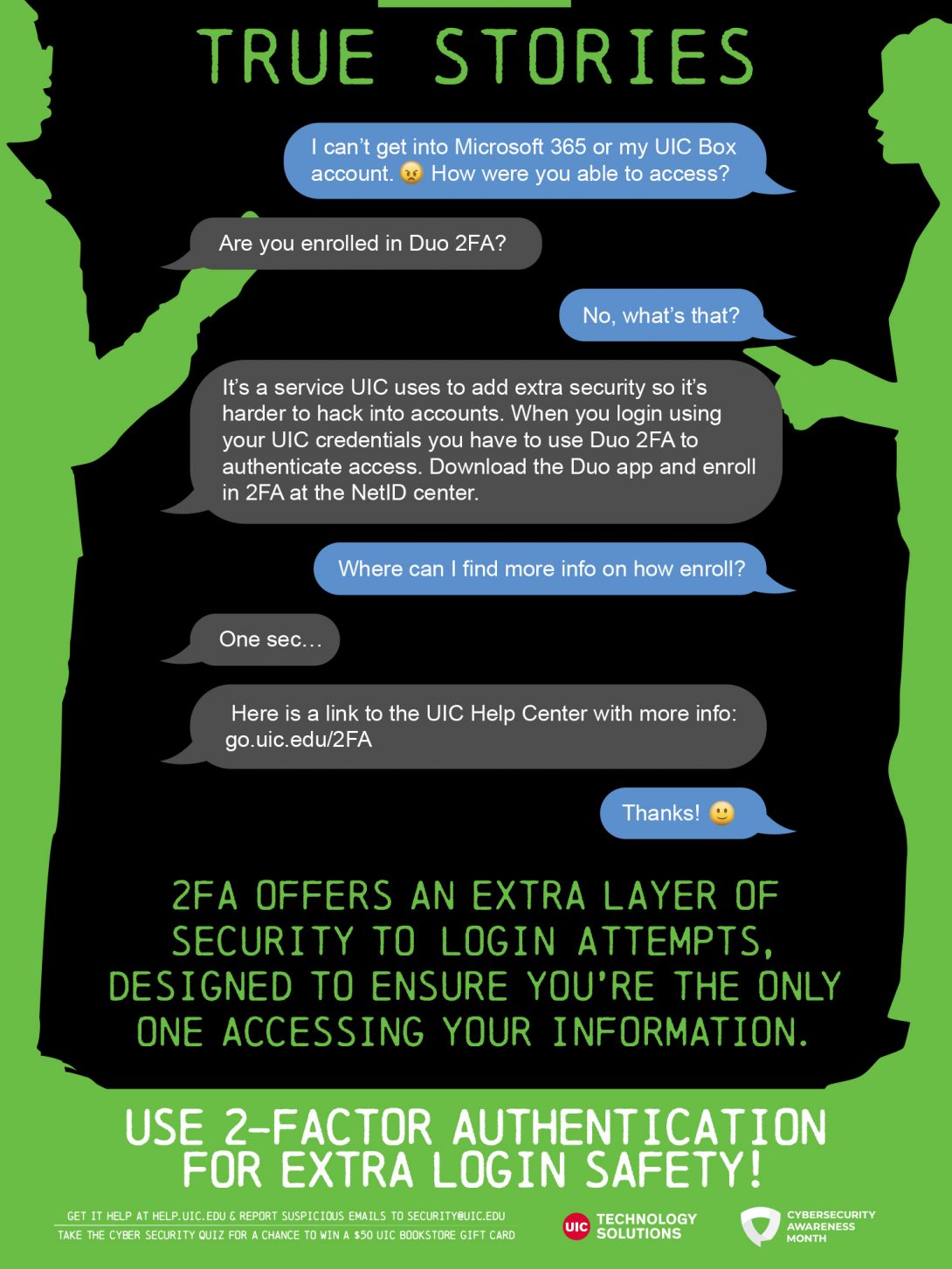 Scams can be hard to detect
Cybercriminals are getting craftier every day and spotting a phishing scam can sometimes be difficult. Email scams can be hard to detect and as a result, it is easy for members of the UIC Community to fall victim to these attempts.  When a cybercriminal gets your NetID and password, they can log into your accounts, steal information, and start spamming others in your network.
2FA adds an extra layer of security
2FA helps secure your account, and the University's sensitive data, by adding an extra layer of security. When logging in to university systems using your NetID and password, 2FA requires you to verify your identity using a second factor such as a mobile device, and prevents anyone but you from logging in, even if your password has been compromised. Two-Factor Authentication greatly enhances protections on your account and data that are vulnerable to phishing attacks.
UIC services and applications require 2FA
Technology Solutions has added 2-Factor Authentication (2FA) to several University systems including Microsoft Office365, Box, and Qualtrics, with more services being added in the future. Students, faculty, and staff should enroll and set up Duo 2FA to ensure seamless access to services and applications.
Protect your UIC Accounts & Data with 2-Factor Authentication
How does 2FA work?
With 2FA, you need "something you know" (NetID/password) along with "something you possess" (hardware token, passcode, phone, or message from a device you have set up with Duo). To log into a system requiring 2FA authentication, you will be prompted to prove that it is really you with a passcode, phone call or text message on the device you set up with Duo.
Why do I need to use 2FA?
2FA provides a second layer of security to your University account, making it difficult for an unauthorized person to access your information. If your password is stolen or compromised, having 2FA set up will require the thief to also have possession of your registered device in order to access your account. Merely having your pin and password is no longer enough to change your personal information.
What system is used for 2FA?
UIC has selected Duo, an industry leader in cyber security services, to provide 2-Factor Authentication (2FA) services. It is a cloud-based service that will help secure your account and the University's sensitive data.
Do I need to enroll in 2FA?
Currently, UIC requires you to use 2FA to access a number of services such as email. If you would like to add the additional layer of security to your account, you may enroll through the NetID Center. Once enrolled, you will not be able to remove this feature from your account. You will be required to use 2FA for any applications that require it. More applications will utilize 2FA moving forward.
What to you if your NetID and Password has been compromised
Change your password immediately at the NetID Center.
Email security@uic.edu and explain what occurred. The UIC Security team will monitor your accounts and ensure no suspicious activity is taking place.
Modified on October 13, 2021