Make the Most of Online Learning: Netiquette & Best Practices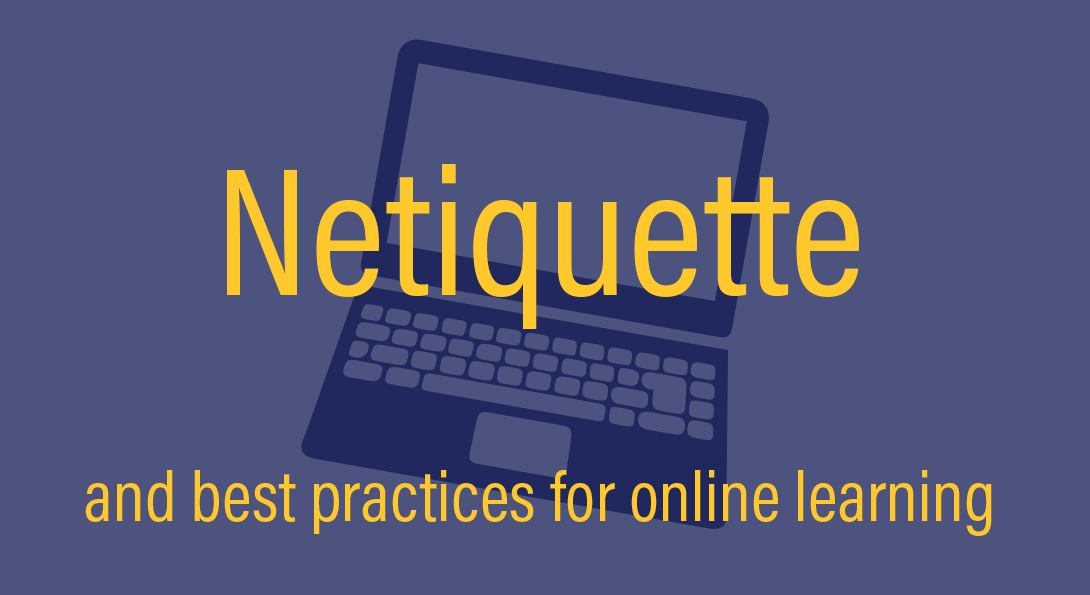 Welcome back to classes!
While current circumstances call for remote teaching, please take a look at these best practices to help you make the most of online learning.
The quality of your interactions with instructors and classmates have a major impact on your experience as an online student. Keep this "Netiquette" framework and its guidelines in mind as you participate in your online course.
Visit our Technology Basics for Academic Continuity page for more information on acquiring internet access, software resources, online collaboration tools and more at: go.uic.edu/academic-continuity-students
The quality of your interactions with instructors and classmates have a major impact on your experience as an online student.
Review & follow instructor communication guidelines.
Be sure to review your course syllabus and any emails, instruction or announcements from your professor to familiarize yourself with expectations.
Select a quiet space.
To the best of your abilities, make sure that the space you select for your online classes is quiet and as free of distractions as possible.
Actively participate & introduce yourself.
Keep engaged through speaking or chat. Note your name the first few times you speak to let moderators and other session attendees know who is participating.
Mute yourself when not speaking.
This reduces background noise such as sirens, typing, barking, eating, or a private conversation, that can distract the session.
Use a civil tone & non-offensive language. NEVER use caps.
While you are encouraged to think critically and engage in rigorous debate, please avoid using personal attacks, crude language and CAPS.
Be cautious when using humor or sarcasm.
With online communication, be more polite than you might be in person. It's quite easy for misunderstandings to develop online because you aren't able to use tone of voice (audio) or facial expression (video).
Write clearly & succinctly.
Aim to make your messages easy to read and understand. If you frequently rely on idioms or slang phrases, consider how they may be rephrased for clarity.
Stay focused on your online courses by avoiding distractions.
Separate your online course-related computer time use with that of your personal use. While working on your online class, do not watch TV, talk on the phone, check personal email, surf the Web, or interact with family members.
Attribute any sources you use.
Doing so should make your comments more effective while also encouraging a more rigorous and structured debate.
Be professional & respect others.
Be mindful of your peers and instructors. Don't talk over others. Raise your hand if there is no opening to speak. Type questions and feedback in the chat. Be careful of what you say or write. Remember that anything you write to one person could be easily forwarded to others.
Be ready for online courses! Review these troubleshooting tips to ensure your computer is ready for online courses.
Join the session early.
Join the session 5-10 minutes early to ensure you can access the session and resolve any technical issues.
Know your online learning tools.
Before your class, get acquainted with the online collaboration tools your professors will be using (Blackboard Collaborate, Zoom, Microsoft Teams, etc.) Make sure you have a pdf reader.
Use a hard-wired (Ethernet) connection and have a back-up plan.
If not available, use a WiFi connection. If your internet at home is weak, try using a cellphone hotspot. Get phone numbers of one or two classmates so you have someone to contact by phone, in case you lose internet connection so you have someone to contact by phone.
Update your internet browser.
Be sure to stay up-to-date with internet browsers that support the applications you need for online learning.
Back-up your files.
Be sure to save your files each time you work online. Name your files clearly and use folders so you can find documents quickly.
Limit video use.
Excessive video use may slow a connection. Use only when necessary to avoid technical difficulties.
The most challenging aspect of taking online courses is time management and paying attention. It's easy to get distracted, access other sites and fall off track.
Use the following strategies to manage this:
Understand course time requirements & expectations.
Ask the professor how many hours you are expected to devote to the course per week, and do your best to come close to this number.
Schedule specific times for your coursework.
Inform people of your schedule and do your very best to stick to it. If someone asks you to do something during your study time, tell the person that you are "in class" at that time.
Be sure to note assignment due dates.
Print out a course calendar at the beginning of the term with all important due dates clearly noted. Also, note times you need to be online for real-time discussions or telecasts.
Avoid procrastination.
Constantly monitor your progress. If you see that you are falling behind, use some of the strategies below:
Each time you sit down to work on your course, make a list of what you plan to get done and a target time to finish the work. Try hard to meet your target time. You will be forced to avoid your email and other distractions in order to meet your goal.
Monitor each time you give in to temptation or distraction by writing a tally mark on a piece of paper. Count up the number of these marks at the end of a study session. Many students find that a few sessions of this kind of monitoring will dramatically reduce the number of times they get off track.
If you are still having trouble keeping up, partner with one or two fellow students. Decide on a specific time that you will work on class material. Call or email each other at the start of the session and again at the end of the session to check on each other's progress.
Modified on January 28, 2021