Learn to Conquer Stress, Manage Time, Speak More Confidently & More on LinkedIn Learning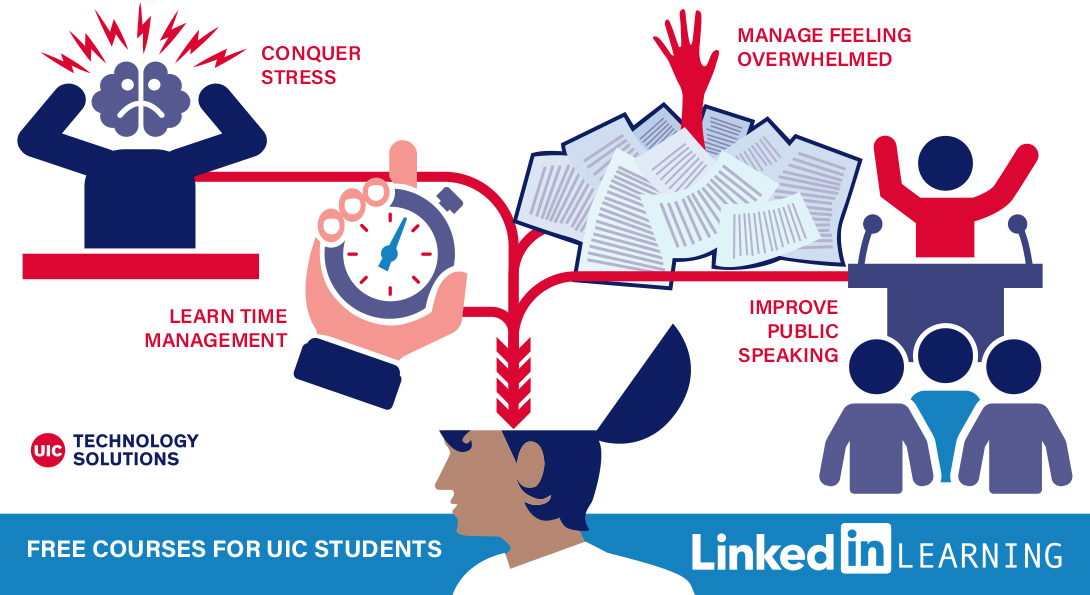 Available to registered UIC students, faculty and staff
Sometimes, all you need is a little guidance to help you tackle some of your greatest challenges. Whether it be time management, public speaking, conquering stress and underperformance, working in teams, or practicing mindfulness that will inspire you to improve, LinkedIn Learning's curated videos can help with that.
Offered by Technology Solutions free of charge to UIC students, faculty and staff, LinkedIn Learning is where you will find over 16,000 Business, Design & Tech Online courses available 24/7 for self-paced learning.
Feeling overwhelmed is common. Discover how to disrupt the stress circuit, cultivate calm and positive emotions, and take small, imperfect steps toward resolution.
Discover how to use social media more sensibly, clear your mind by incorporating note-taking apps into your workflow, and reduce digital interruptions.
It's easy to call out the qualities that make someone a poor team member. But what makes a person invaluable on a team? By making subtle changes, you can adopt these behaviors to become a more valuable collaborator.
Teach your brain to focus on solutions, rather than problems, to build your mental toughness through a success log which will train your brain to focus on improvements, instead of failures, and will build up your self-confidence.
Develop the skills you need to prepare and deliver an outstanding speech or presentation through practical insights that can help presenters prepare, open, deliver, and close their speeches.
LinkedIn Learning is available to registered UIC students and can be accessed with your UIC email or NetID and password. 
Modified on February 28, 2022