Gradescope Available: Streamline & Standardize Assessments & Grading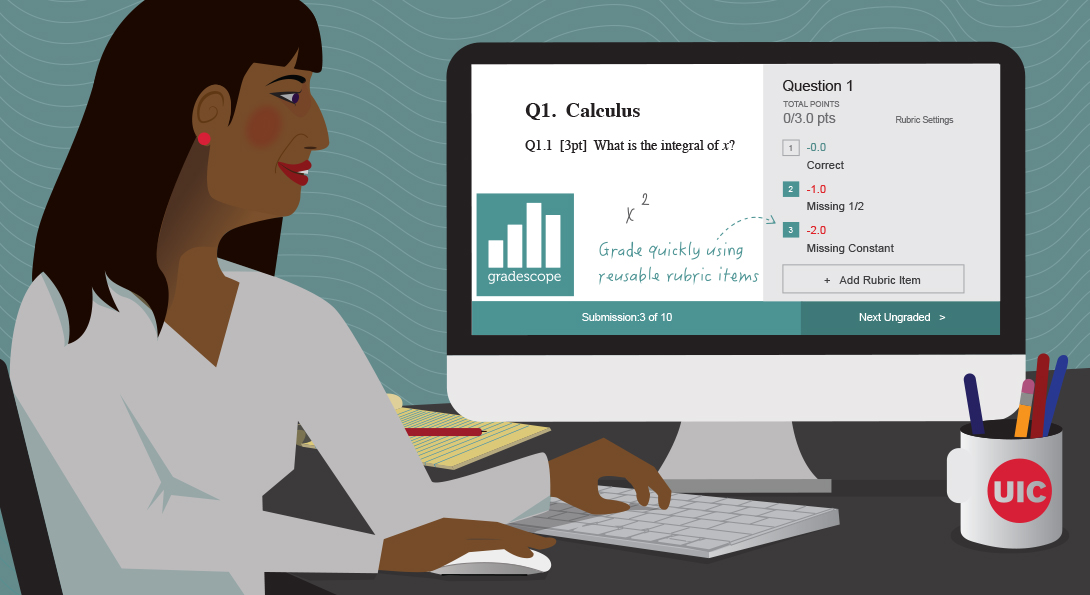 Learning Technology Solutions (LTS) would like to remind faculty that a university-wide license for Gradescope is available! Gradescope is an online rubric-based grading tool that can speed up and streamline grading, improve grading consistency.
Gradescope is an online rubric-based grading tool that can speed up and streamline grading, improve grading consistency and transparency, and help instructors provide more meaningful feedback to students.
Gradescope is available in Blackboard courses and can be used for small classes, large classes, as well as in-person and online courses.
Gradescope handles various types of assignment and assessment formats including:
Written reports: PDF
URLs: links to web pages including YouTube
Code: programming languages
Various File Formats including Excel, PowerPoint & Word
Assignment/Assessment (Multiple choice, Checkboxes, Short and Long text-based answers)
Gradescope was originally designed for STEM assignments but since it can be used with handwritten and typed assignments, it has evolved and can be used for a multitude of subjects and courses.
Log into UIC Blackboard, go to your course, click on Tools and select Gradescope. Clicking on Gradescope will automatically create and activate your account. You will receive an email to set your password, but you do not need the password to log into Gradescope, as you can access Gradescope directly in Blackboard.*
Launching Gradescope through your Blackboard course will automatically link your course to Gradescope. You will  have to add students to the roster in Gradescope for them to be able to access assignments.
In the Gradescope Class Roster page, there is a Sync Blackboard Roster option that when clicked will sync your students to your Gradescope course. It also recognizes if a student is a TA, and will mark the student as such. If students enroll or drop out of classes, instructors should click Sync Blackboard Roster again to ensure new or dropped students get synced.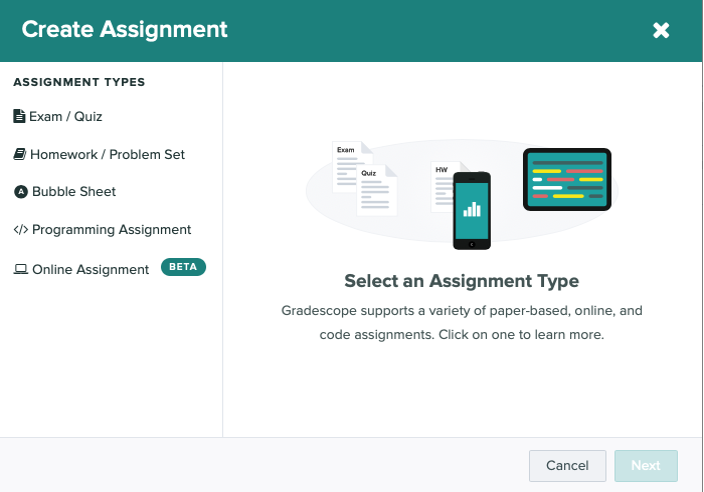 Online Assignment BETA (Recommended)
* Using the Online Assignment Beta option, instructors can create questions directly on Gradescope and students will be able to log into Blackboard, access the assignment and submit responses within Gradescope.
Homework/Problem Set
* Instructors specify a window of time that students can submit their work. Students upload their work via their phone or computer.
Bubble Sheet
* Using the Gradescope Bubble Sheet Template instructors can mark the correct answers for each question ahead of time, and all student submissions will be automatically graded. Learn More.
Programming Assignment (STEM-specific)
* Instructors can automatically grade student code with a custom written autograder and/or manually grade using the traditional Gradescope grading interface. Learn More.
Exam/Quiz (in-person option)
* Not recommended for online learning
* Instructors create a paper-based exam and students complete the assignments. Instructors collect, scan physical exams, quizzes and assignments for upload in PDF format to Gradescope and then grade.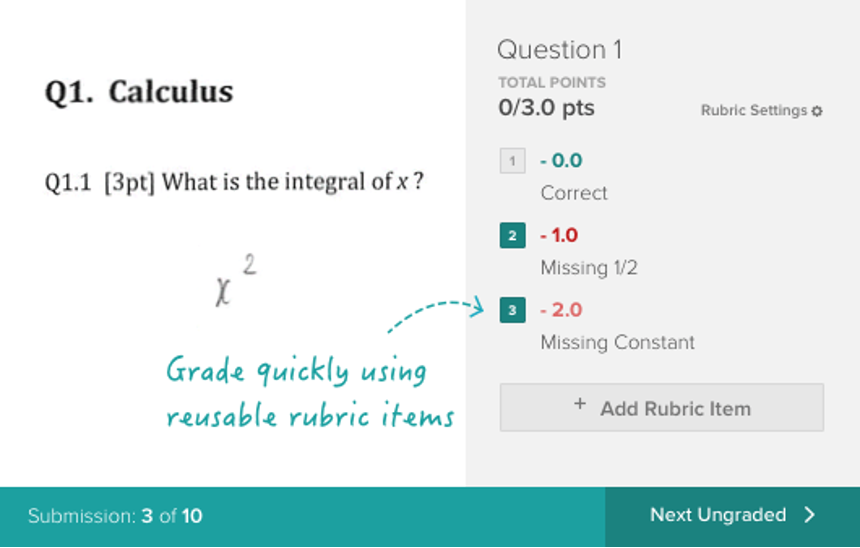 Grading for Online Assignments BETA, Homework/Problem Sets and Exams/Quizzes is completed one question at a time using rubrics. The rubrics you create will either add points to a score of zero or subtract points from a ceiling score. You also have the ability to add bonus points.
To create a rubric, simply start grading and create them as you go. Gradescope also allows graders to change a rubric in the middle of grading, while Gradescape re-grades for you. For example, if you decide later that you want to adjust a point deduction for a particular mistake, just change the rubric for that question and all grades will be updated automatically. There is no need to go back and review each assessment again, Gradescope re-grades them retroactively for you!
Instructors can add comments to students with feedback or explanations. Gradescope's AI will recognize patterns of comments and will save them in the "Apply Previously Used Comments" drop down menu to help keep comments consistent and provide a quick solution for delivering feedback. In addition to adding comments, graders can also annotate and sketch on the student work (for Exam/Quiz and Problem Set/Homework options only).
Instructors can also save time by using the Grading by Group feature that groups answers using its sophisticated AI technology to group similar answers. Gradescope will group together similar answers (text, multiple choice) for grading, letting instructors and TAs grade all the questions simultaneously – a real time-saver!
Once grading is complete, grades are published in the Blackboard Gradebook (if linked to the course). Students will be notified via email and can see grading, annotations and comments entered in Gradescope.
Students are allowed to request regrades (if allow regrade requests are enabled), without raising instructor's suspicion that their submitted work has been manipulated or changed. Allow Regrades is enabled by default but instructors can edit settings and disable this option.
Since assignments are scanned and saved digitally, students' work cannot be edited, unlike paper-based exams, so instructors can be assured that assignments were not manipulated then submitted for a regrade request.
Saves time & speeds up grading
With everything being online, there is no collection and returning of papers, and piles of documents to sort. Gradescope streamlines and speeds up grading saving instructors valuable time. Once you learn how to use Gradescope and become comfortable with the interface, you can cut grading time down significantly and click through grading in a flash!
* Learn to use the keyboard shortcuts in Gradescope
Improves consistency & transparency
Transparency with rubric grading clearly quantifies to students how their score was calculated. Using rubrics created in Gradescope also keeps grading consistent across all submissions and can prevent inherent bias while grading.
Preserves academic integrity
Having a scanned copy of every submission helps preserve academic integrity and keeps students honest. If a grading mistake is made, students can still request a re-grade with approval from the instructor. Because student work is uploaded and saved digitally, instructors have no doubt that returned work was not edited or manipulated, which can be the case with paper-based and written exams.
Enables instructors to create more meaningful assessments
With the time saved on grading, instructors can create more meaningful assessments, focus on teaching and refining instruction.
Insightful analytics
With UIC's Gradescope license, instructors have access to advanced reporting that can provide valuable insights into exams, assessments and student performance. Reporting provides both question and rubric level statistics to help you understand where students are struggling and where students lost the most points, gaining valuable insights to help you improve your pedagogy as well as understand how to use assessments for teaching and learning.
Gradescope has saved me time in class. I used to spend a significant amount of class time collecting and handing out papers. With Gradescope everything is done online and I can use the time saved for other learning opportunities and discussion.
LTS and Gradescope hosted workshops in 2020 to share how instructors and TAs can use Gradescope to streamline and speed up grading. You can access recordings to these webinars below.
Modified on March 12, 2021