Choosing the Right Web-Conferencing Tool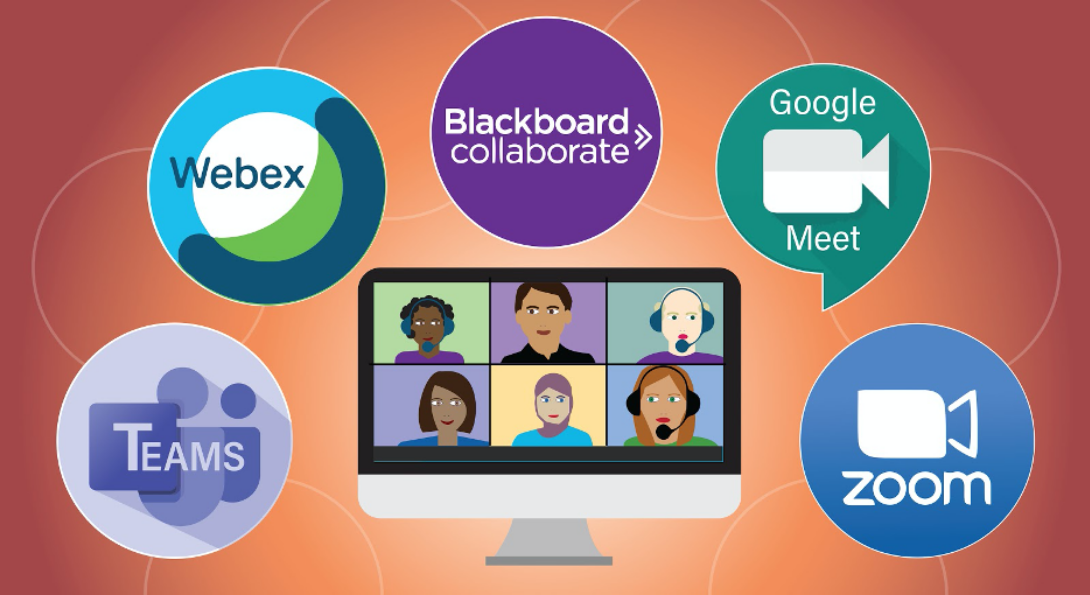 If you are teaching courses online, there can be an overwhelming amount of web conferencing and online collaboration tools you can use to share course content, communicate with students, and encourage discussion. Many of these tools provide similar services but may have slightly different features. Selecting the right tool depends on your course needs and teaching objectives, so it is important to understand each tool's features and capabilities.
This article lists the different UIC-supported web-conferencing tools available to you, suggestions of when to use them, and potential issues that can be encountered. Instructors should be familiar with Blackboard Collaborate, and at least one other tool, in case an alternate option is needed.
Blackboard Collaborate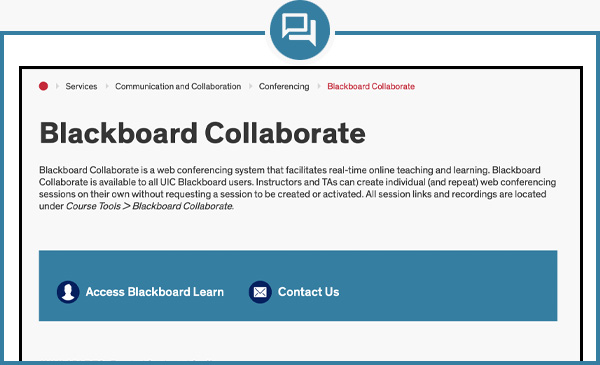 Blackboard Collaborate is available in your Blackboard course(s) and provides a virtual classroom where you can teach and connect with students as you normally would in a classroom. Collaborate has video and audio conferencing, screen and file sharing capabilities and a whiteboard option. Blackboard is integrated with Banner, making it easy to email and communicate with students registered to your courses.
Blackboard Collaborate is great for:
Providing a secure classroom
Lecture or sharing presentations
Recording lectures
Hosting office hours or private meetings
Creating groups for student projects
Blackboard Collaborate performs optimally on Chrome; Firebox or Safari while Internet Explorer and Edge should be avoided. Like any online tool, Blackboard Collaborate can experience technical and audio issues during high volume adoption or poor internet connection. Be aware of common Blackboard Collaborate issues and follow these troubleshooting tips. If you experience audio issues and you cannot be heard, end the session and restart it.
Google Meet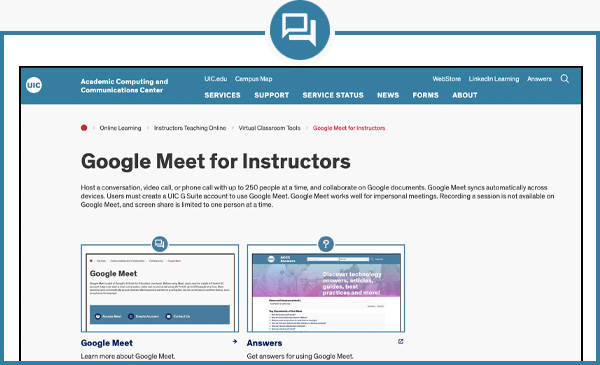 Previously known as Google Hangouts Meet, this video conferencing app is now just known as Google Meet, and is part of UIC's G Suite for Education. UIC instructors and students have access to Meet, as well as other G Suite tools, like instant messaging (gchat), cloud storage (drive), google sheets, google forms, and more. Google Meet is easy to use on computers and smartphones. Google  Meet allows users to host video calls with up to 100 participants.
As of 8/7/2020, Google Meet was enabled in Blackboard Learn. Google Meet for Blackboard allows instructors to create a Google Meet meeting and share the link with students. help.blackboard.com/Learn/Instructor/Interact/Google_Meet 
Google Meet is great for:
Small or informal meetings
Video conferencing & file sharing
Student collaboration & group meetings
Google Meet meetings cannot be locked or secured with passwords, and although screen-sharing is a feature, it is limited to one person at a time. Google Meet does not have recording capabilities, so instructors should not use Meet if they need to record lectures or meetings.
Microsoft Teams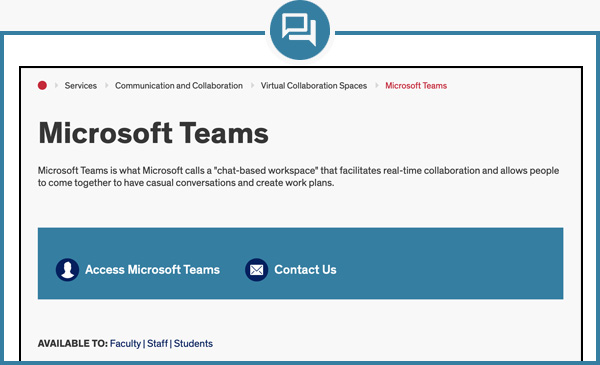 Microsoft Teams is a video conferencing app and collaboration tool that comes bundled with UIC's Office 365 subscription. Its features include video conferencing, file and screen sharing, individual and group chats, and screen recording, and integrates with other Microsoft tools. Teams can be dedicated to a topic, group, project or subject. Channels can be created within Teams. Channels are where you hold meetings, have conversations, and work on files together.
Microsoft Teams is great for:
Small or informal meetings
Video & audio conferencing
Screen & file sharing
Meeting & collaborating with University colleagues and peers
Microsoft Teams is an amazing tool, but can be overwhelming with its myriad of capabilities and features. The video conferencing app is different from other video conferencing apps and is not as intuitive as other tools. The way files are stored in Teams can also be quite confusing with the channel conversations, chats, and file locations.
Webex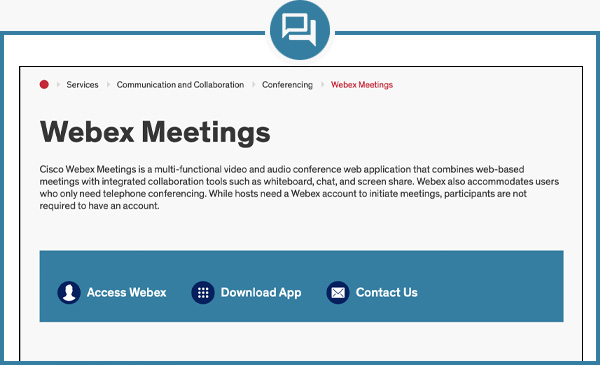 Cisco Webex Meetings is a multi-functional video and audio conference web application that combines web-based meetings with integrated collaboration tools such as whiteboard, chat, and screen share. Instructors have a dedicated meeting room but should schedule sessions instead of using their personal meeting room as best practice; sharing your personal meeting room can have a gate-crashing risks from uninvited guests. Webex also has the "call-me" feature in which attendees can have Webex call them directly; this can bypass any audio problems users may experience using VOIP.
Webex is great for:
Hosting large meetings (up to 1,000 participants)
Hosting webinars or lectures
Recording meetings
Collaboration
UI Hospital and Clinic use
Webex is a great tool for web conferencing and collaboration but its interface has been described as not as being user-friendly as other tools. As with any online tool, issues with audio, screen sharing, or disruption in services can occasionally occur.
Zoom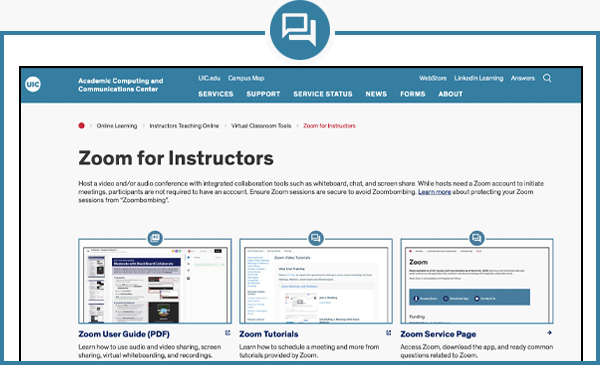 Zoom is rated easy to use and has special features including custom virtual backgrounds, HD video, and audio.  With Zoom, you can get up to 100 video callers on the line at once, and see as many as 49 of them at the same time, as well as allow multiple people within meetings to share their screens. Zoom integrates with Outlook, Google Drive, Google Calendar, and Blackboard.
Zoom is great for:
Hosting large meetings (up to 300 participants)
Hosting webinars or lectures
Recording sessions
Simultaneous screen sharing (the meeting host can allow multiple people to share the screen at the same time)
Zoom is available at UIC until 2022, but is not available to UI Hospitals and clinics. Zoom has somewhat of a poor reputation when it comes to security, as it recently experienced what is now known as "Zoom-bombing" – when uninvited attendees join sessions and cause disruptions. To deter this, University Administrators changed UIC Zoom settings that require a password for any scheduled sessions. Hosts can enable additional features to ensure a safe and secure learning environment. Click here to learn more.
Tutorials
Click on the links below to view online Tutorials
Technology Solutions Help
As always, Technology Solutions is dedicated to your success and is here to provide you with guidance and support. Please contact us with any questions or concerns: consult@uic.edu.
Modified on January 21, 2021