Beware of Gift Card Scams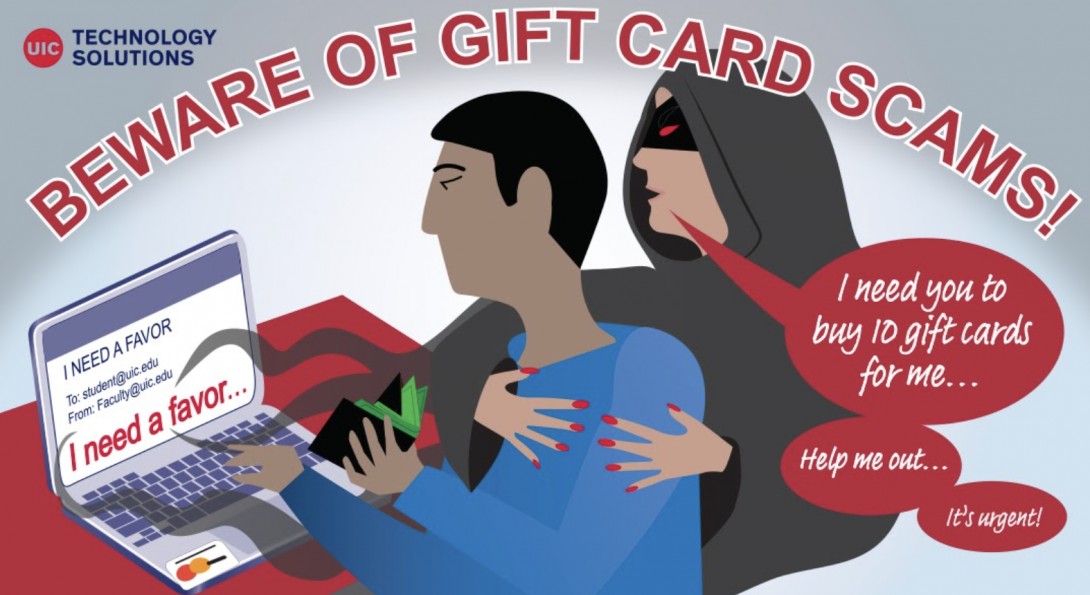 Did you receive an email from a Chancellor or Provost asking for urgent help purchasing a gift card on their behalf? You've been targeted by a common scam.
The digital world is filled with all sorts of cyber threats, and most people think falling victim to one would never happen to them, but scammers are getting more and more creative these days.
A new Federal Trade Commission data spotlight shows that in the first nine months of 2021, consumers reported losing $148 million in scams where gift cards were used as the form of payment. That amount is more than was reported in all of 2020.
Nearly 40,000 consumers reported using gift cards to pay a scammer in that time frame, according to the spotlight, which draws from fraud reports submitted to the FTC by consumers. Most often, consumers reported paying scammers who were impersonating large companies or government agencies, but scammers often pose as friends, family or colleagues.
UIC's Information Security Team works diligently behind the scenes to minimize cyber threats targeting UIC students, faculty and staff. Despite best efforts, some scam attempts may still make it to your inbox. Moreover, there have been reports of UIC Community members also receiving this scam via text!
Emails can come from @uic.edu email
Scammers will use "spoofing" technology to mimic a UIC email and pose as a fellow student, instructor, university employee, or other member of the UIC community.
Scammers will pose as university leaders
Gift card scam emails will usually be from a university leader that you probably do not work with. Scammers will find the names of university leaders online and will pose as them to get you to fall for the scam.
Scammers will ask for a "favor" to purchase a gift card
They will ask for a "favor" and request that you purchase a gift card on their behalf and (i.e., "I'm in a meeting right now and need some help. Will you purchase this gift card for me?"). They promise that you will be reimbursed for the purchase and then will ask you to send the gift card number and pin.
Scam messages use urgent language
These scammers are hoping to catch you off guard and rush you into acting quickly. They will not be available to speak on the phone and may ask you to contact them using a non "uic.edu" email address.
Scam messages are written poorly
The emails are usually full of typos, not written in professional language and use very casual greetings or closing words.
What to do if you receive a gift card scam email Heading link
Do not respond
Please do not respond to these emails or texts if they seem suspicious.
Review the email carefully
Evaluate each email carefully, perform your research and search for red flags listed above.
Email security@uic.edu
If you are unsure if an email is fraudulent, forward the email to security@uic.edu so it can be investigated and shared with the community.
If you receive phishing/scam emails or calls and have given or entered your NetID and password or other personal information, please immediately change your password at identity.uillinois.edu and contact security@uic.edu with the details.
If you received phishing/scam emails or calls and purchased gift cards, Bitcoin or deposited a fraudulent check, please contact UIC Police for assistance at 312-996-2830 or visit police.uic.edu.
If in doubt, email security@uic.edu with any questions.
Thank you for your support in helping prevent cyber attacks.
Modified on February 09, 2022