A Talk with UIC CIO Matt Riley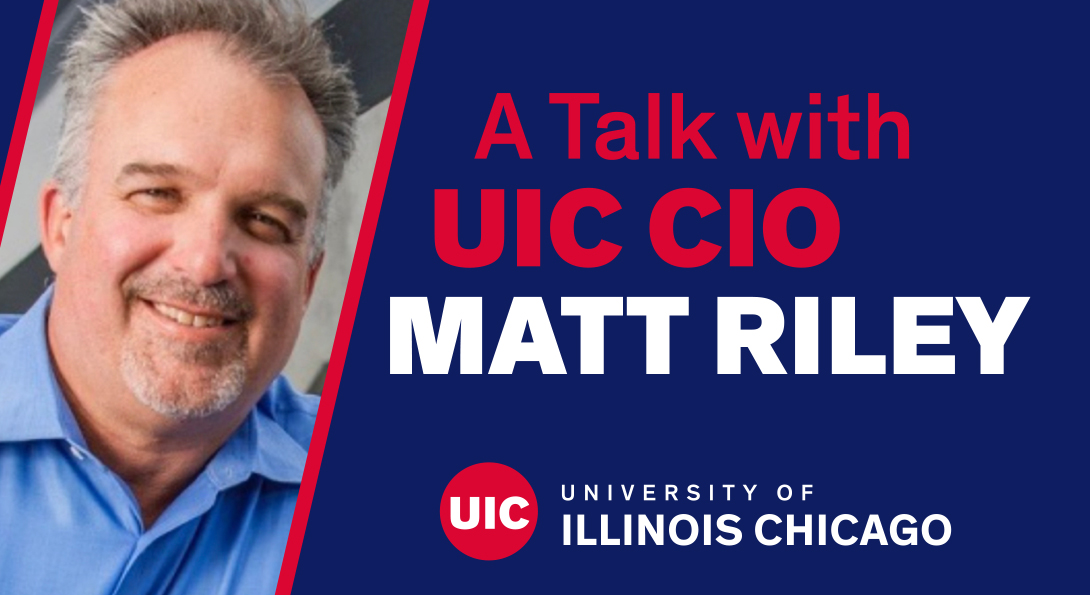 Quote 1
The main thing that I've learned over thirty years of being in IT in academia is that it's not about the technology, it's about the people. It's always about the people that we are serving.

UIC Chief Information Officer

|
Tomorrow's IT at UIC
Joining the university as CIO in 2020, Matt Riley says his top priority is to transform UIC IT into a strategic partner and enabler for innovative tech solutions. "There is a difference there that is worth mentioning because I want both," he said. "We strategize together, and turn around and enable those outcomes."
Among his other goals as a newcomer to UIC are improving the university's underlying IT infrastructure and better positioning resources to fulfill the institution's mission. As UIC Associate Vice Chancellor and CIO, Matt is responsible for all aspects of central IT, collaborating with key stakeholders to identify ways to advance the use of the university's computing and information technology resources.
Quote 2
I feel that the crew that I've met has this love of UIC… and the overall attitude of IT across campus has been positive in a way that's not true at other places.
Text 2
"UIC is the largest research university that I've worked at, and I think the challenge at this university is a lot more than any of the one I've been at in terms of elevating us, but I feel really up to it."
After UIC IT stepped up to the challenge of providing the UIC community of students, faculty and staff with the technology solutions and support necessary to learn, teach and work remotely in an emergency situation, the greatest challenge now, he says, "is to turn that momentum into opportunity for the IT community at UIC across the board, the opportunity to take those steps to being that strategic partner and enabler on campus."
Matt envisions UIC IT executing on the technology necessary to support endeavors like "online education, academic programs, fundraising and building more efficiency in our business process so we can keep the money flowing for education," he says. In addition, "all these are opportunities for us to enable and achieve some of the diversity goals that we have to reach students who have not been able to consider going to college," he notes.
Three Decades of IT in Academia
Matt's extensive experience in IT spans some three decades. Prior to joining UIC, he served as chief technology officer at the University of Oregon where he significantly contributed to the launch of Oregon's statewide network for education and research and deployment of collaborative cloud-based services in response to COVID-19. Matt has also served CIO at the University of Montana and in various IT roles at Stanford University and the University of Redlands.
He currently serves as a member of the Educause Management Institute faculty and a member of Microsoft's Advisory Board for education.
A two-time graduate of the University of Redlands, Matt earned his bachelor's degree in business, and master's degree in business administration. He is also a veteran of the United States Air Force.
And what do three decades teach someone who has worked their way up to the top? "I've learned to trust the others that I'm working with on the team, especially when I went into leadership positions, that their ideas are going to be better than mine, and I need to invite those ideas and steer us toward the best of those ideas but not so much inject myself in those ideas," he says. "It's something I've learned throughout the years."
Modified on May 12, 2021