Host Meetings Online
Your instructors may have a preference on which tool they use for teaching and communicating. Students should familiarize themselves with the web conferencing tool(s) that will be required for online learning.
For group projects and communicating with classmates, students can use Microsoft Teams or Google Meet.
UIC supports several web-conferencing tools that enable virtual communication and collaboration.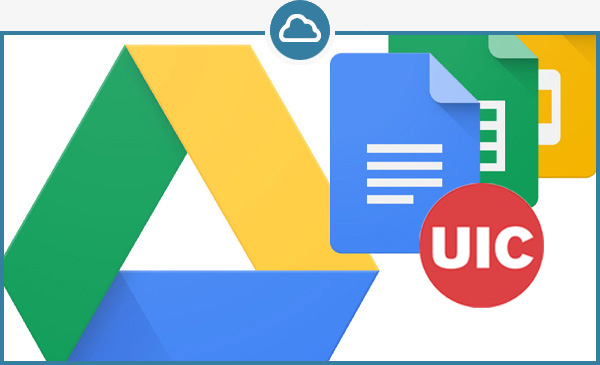 Google Meet is part of Google's G Suite for Education core tools. Students can start a chat conversation, video call, or phone call using Wi-Fi with up to 100 people at a time.
Before using Meet, users need to create a UIC Google account. Learn more here.
Google Meet is great for students collaborating, working on group projects, and team meetings.
Google Meet accommodates up to 100 participants.
Meet has screen capabilities but is limited to one person at a time.
Google Meet meetings cannot be recorded.
International Students: Please note, Google/Google Hangouts may be blocked in certain countries.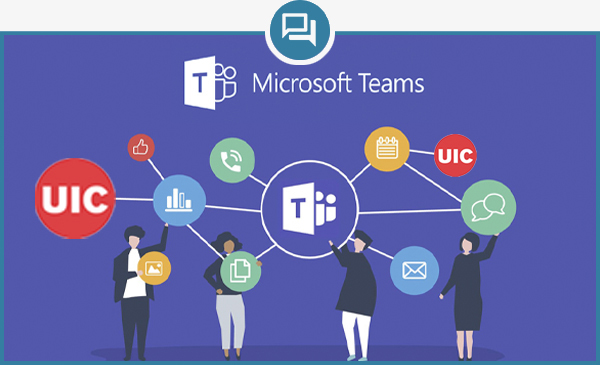 Microsoft Teams is what Microsoft calls a "chat-based workspace" that facilitates real-time collaboration and allows people to come together to have casual conversations and create work plans.
All UIC students, faculty, and staff can use MS Teams.
You can use Teams on the web at teams.uic.edu
You can also download and install MS Teams for your desktop, iOS, or Android device. The download files are available at teams.microsoft.com/downloads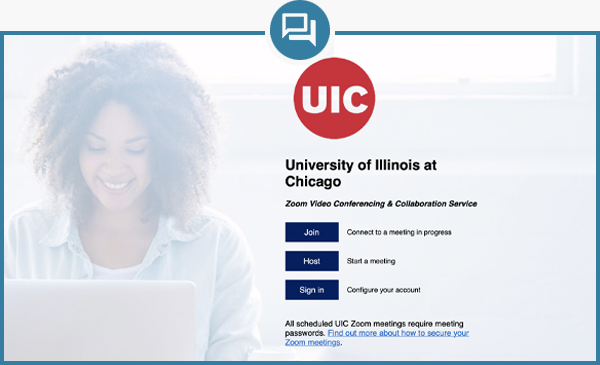 Zoom is a multi-functional video and audio conference web application that combines web-based meetings with integrated collaboration tools.
As a best practice, Zoom session links should never be shared with uninvited or unauthorized guests, nor posted online on Facebook or public forums.
UIC and your instructors value your safety and are dedicated to providing a safe and pleasant learning environment for all students.
Update your Zoom name and display pronouns in Zoom. Learn more: go.uic.edu/preferred-name.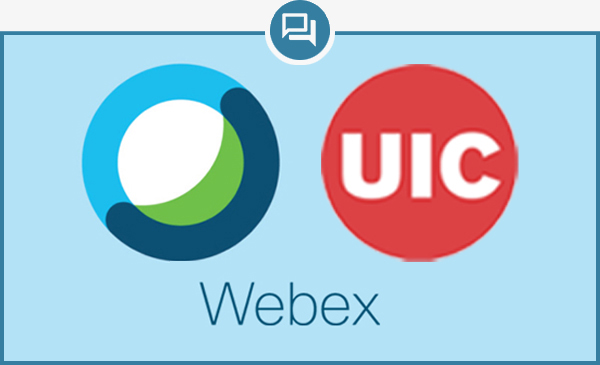 Cisco Webex Meetings is a multi-functional video and audio conference web application that combines web-based meetings with integrated collaboration tools such as whiteboard, chat, and screen share. Webex also accommodates users who only need telephone conferencing. Your Instructors or Teaching Assistants may use Cisco Webex Meetings for discussion sections or office hours.
Webex Tips
While hosts need a Webex account to initiate meetings, participants are not required to have an account.
Participants can join meetings by going to the Host's meeting room or by clicking on WebEx links sent by the Instructor or TA via email.
Webex has the "call-me" feature in which attendees can have Webex call them directly; this can bypass any audio problems users may experience using VOIP.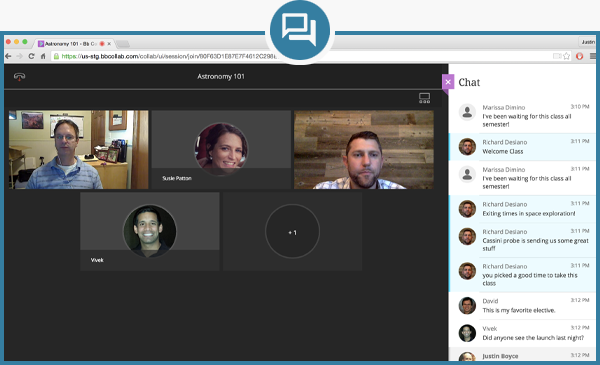 Blackboard Collaborate is a real-time video conferencing tool built into Blackboard Learn. Instructors may use Blackboard Collaborate to lecture, share presentations and applications as well as host office hours.
Blackboard Collaborate Tips:
Blackboard Collaborate performs optimally on Chrome, Firefox or Safari. Internet Explorer and Edge should be avoided.
Download the Blackboard smartphone app and access Collaborate on your phone.
Once you are in Collaborate, point to the avatar image and select My Settings to set your profile picture.
Also from Your Avatar > My Settings, set up your audio and video and adjust your volume. You must give the browser permission to use audio and video.